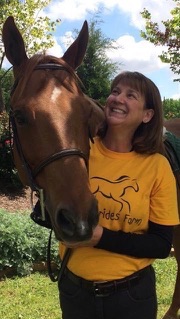 Tracy Grucza has joined the Stable Strides Farm coaching team. She is a certified PATH Intl. therapeutic riding coach. Tracy holds an Elementary Education Degree with a concentration in Reading and Early Childhood. She also earned a Masters Degree in Elementary Education.
Tracy's love for horses started at an early age. She owned her own horse and rode on the open land near her parent's home in Pennsylvania. After taking an equine class in college, Tracy was involved with an Appaloosa Farm and gave trail rides. She also spent a summer as lead instructor at a Girl Scout camp. After marriage and two wonderful sons, Tracy found herself in Kentucky and surrounded by horses. She lessoned in Hunter/Jumper and Saddle Seat riding. In her career she was a stay at home mom, a second grade teacher, and was Director of a private pre-school, pre-K, Kindergarten.
Tracy moved to Texas with her husband in 2014. She knew horses needed a special place in her life in Texas. She started taking lessons at Bridlewood Stables and Equestrian Center. Tracy rides both Hunt Seat and Western. She looks forward to her lessons at the barn twice a week. When Tracy was introduced to Stable Strides Farm Therapeutic program and the very special and talented riders, the excitement of a new chapter was opened.
Tracy started as a very enthusiastic volunteer. Her love for the riders and horses grew. She felt the need to become more involved and dedicated to the magic that happened in the barn as the riders and horses came together. Tracy started the PATH certification process. Today you can find Tracy at the barn on most week days. She volunteers for the Stable Strides Farm program on Mondays and Fridays and coaches on Tuesday through Thursday.